JAR uses the Research Catalogue for all aspects of its submission workflow. JAR only accepts full submissions (no abstracts or proposals) created in the RC. To do so, you must register for a full account, which is free of charge. Please follow the instructions here https://www.researchcatalogue.net/portal/register
Once your full account has been created, please login and navigate to your profile https://www.researchcatalogue.net/profile There, click "create an exposition" to start, making sure that you select either graphical or block for the editor type (other types are not supported by JAR). (Regarding the use difference between the graphical and the block editor, please consult this page.)

Please enter your submission's metadata in the following dialogue box. Note, you can always change your metadata by selecting Options > Edit metadata from the menu.

Please consult the RC's Guide (https://guide.researchcatalogue.net/), video tutorials (https://www.researchcatalogue.net/view/273532/273533) or contact the RC user support (https://www.researchcatalogue.net/portal/contact) should you require help with the RC. JAR does not provide any help at this stage of the process. Note, you can invite others to see and collaborate on an exposition. All collaborators must register for an account.
When you have completed the design of your submission, please make sure that it adheres to the submission check list towards the end of this page https://jar-online.net/en/submissions When you are ready to proceed, in your RC profile, scroll to the exposition and select 'submit for review' from its menu. (Do not click on "self-publish" or "share").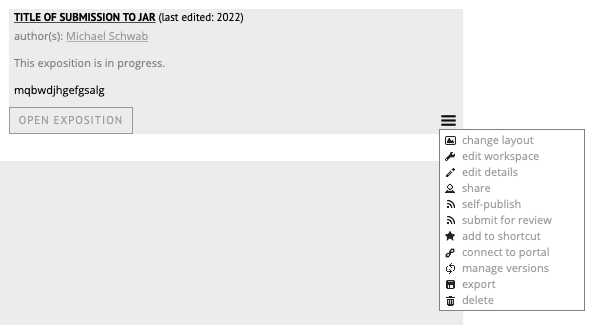 In the following dialogue box, select 'Journal for Artistic Research' as the portal to which you want to submit your exposition.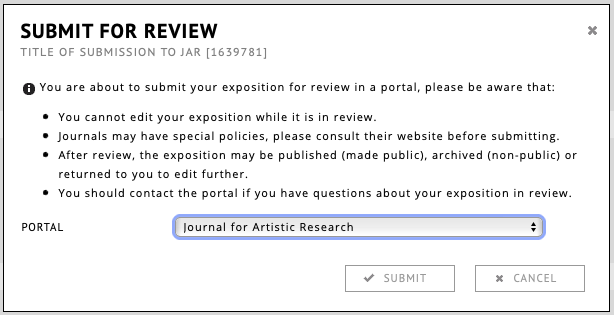 The Managing Editor will confirm receipt by email when they are next at their desk. This may take a few days.